Home page
OUR RULES !!
1.No Racism
2.English public language.
3.Don't spam in chat or in game.
4.Talking about other servers result ban for ever.
5.No asking for Mod's-PM's-GM's
Rules In Game
1.No spamming in BroadCast
2.No selling or trading accounts.
This will get your account Banned
3.No AFK accounts Around. This will Lag the Server
4.Blocking NPC's from being used by other players
will get your account Kicked
5.No bots or hacks, This will get your IP Banned.
6.If you donate you can't get your money back if the
server has a problem and needs to close but you will
regain instantly all your data account.
7.You must read, know and respect the rules as a site helper.
Server Launch


We are currently in the final stage of launching the UCO-Online Generation II

We welcome all the new players so make shure you tell everyone in every mode about us

This will make our server a big happy community

New !!
The New UCO Trailer
> This will help us to have a little ideea about
the people who are visiting our product.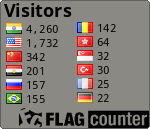 Originally designed by UCO-Online Gaming